Ideas for Date Nights and Hands On Art Experiences
Do you want to do more art and cultural things for your nights out on the town? When you're looking for fun art and creative activities to do with friends or want to spice up your date nights – look no further than Downtown!
Culinary Arts and Foodie Adventures
Want to make a romantic dinner together? Find great date night ideas and cooking lessons at The Cooking Studio of Fort Collins or attend a class at The Teaching Kitchen at Ginger and Baker.
Or experience a less structured date night while exploring Downtown's culinary arts with tasty hand crafted spirits and cocktails or exploring the spice of life along the Fort Collins Foodie Walk.
Taste the richness of a single origin chocolate tasting flight or eating truffles at Nuance Chocolate, explore the vast variety of teas in a tea flight at Happy Lucky's Teahouse or sit at the Art Deco tasting room sipping on craft spirits and cocktails from Coppermuse Distillery. Find more downtown food and drink businesses in Downtown.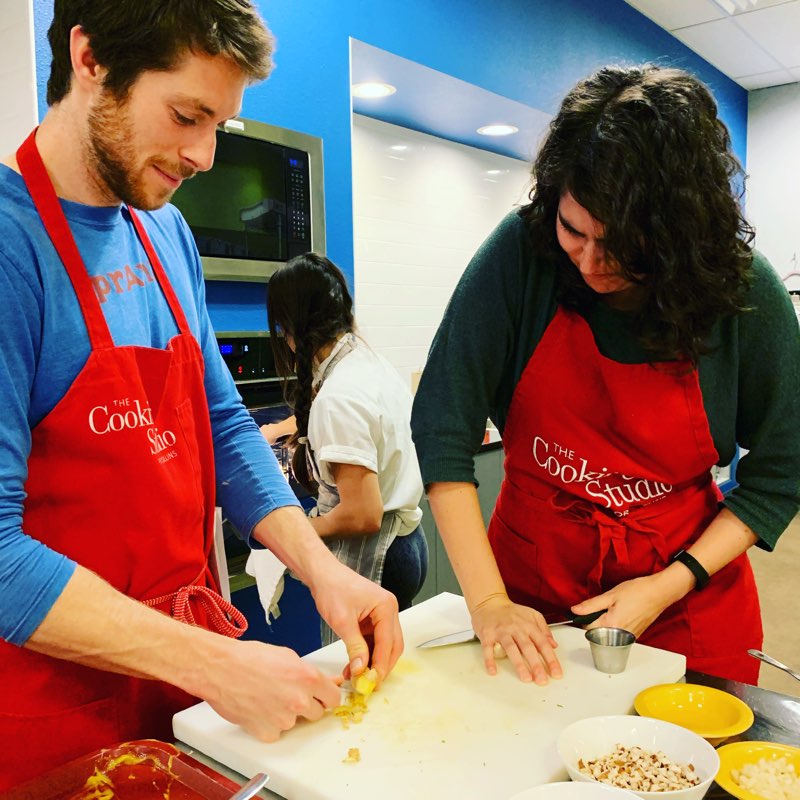 ---
Quick Art & Craft Classes
Learn to Paint while sipping wine… Pinot's Palette has everything you need! They offer near daily classes where anyone can learn to paint, daily designs and it is great for groups and date nights. And art classes like liquid arts, drawing and painting can be found at The Merchant Room.
Creating unique crafts with your own hands doesn't have to be hard! You can learn lots of different craft skills at Wolverine Farm's workshops, connecting with talented teachers offering classes at Art Lab Fort Collins and painting your own personalized sign or game at Board and Brush Fort Collins.
---
Dinner and a Show
Want to laugh? Downtown is brimming with chances for laughter from local improv company The Comedy Brewers, you can catch national touring comedians at The Lincoln Center and Fort Collins very own fulltime comedy club, The Comedy Fort which brings hundreds of national and Colorado comedians to town each year.
Curtains up! Theatre is a tradition in Downtown Fort Collins with acclaimed salon theatre company Bas Bleu offering a full season of shows original productions, the touring shows gracing the stages of The Lincoln Center Performing Arts Center and OpenStage Theatre & Company who have been producing high quality theatre in Fort Collins for 50 years!
Catch a live music show! Music can be heard from patios, along alleyways, intimate listening rooms and at world class concert venues. If you like live music Fort Collins is the music city for you. See live jazz all week at the speakeasy bar Ace Gilett's, the stylish Sunset Lounge and Rooftop Bar and at long standing jazz home Jay's Bistro. More intimate listening rooms Magic Rat and The Armory host singer songwriters and talented acts year round. And the music heads can see live concerts from both Fort Collins and touring bands at The Aggie Theatre, The Atrium located near the CSU campus, Fort Collins' iconic music venue Avogadro's Number, DJs and more at The Coast, nationally touring musical acts appear at The Lincoln Center, art haven The Lyric is located just north of downtown, legendary hardcore venue Surfside 7, and state of the art music concert venue Washington's.
Every night on the town needs some great food or cocktails! Explore the Downtown Fort Collins business directory to find your perfect match.
---
Dancing, Movies and More!
Want to do something spicier? Learn the basics from professionals and dance the night away! Be part of it at Salsa dance at the Agave Room above the Rio Grande Mexican Restaurant, West Coast Swing at Genesis Fitness, dance the night away Swing dancing at the Masonic Event Center, square dancing with the Square Dusters, and Friends of Traditional Dance offer contra dancing to live music.
Or get to the movies to see your favorite films or an indie film at a festival. You can explore all the latest films at The Lyric, and attend one of the local film festivals — CSU's ACT Human Rights Film Festival and HIFF – The Horsetooth International Film Festival.