Self Guided Creative, Art & History Tours
Take a tour and experience the Creative District for yourself! Through self-guided and organized tours you can explore a bit of the Creative District's art, food, history and beer. Enjoy the Art in Public Places transformer mural boxes and sidewalk pavers, self guided public art tours and Downtown's vibrant murals. Explore downtown's architecture and landscaping (including the old firehouse that inspired Disneyland's Main Street) on the Historic Explorations Self Guided Tour or pick up some artwork for your home or business on the 25+ year-old First Friday Art Walk. Visitors can learn about downtown's historic origins, as well as, colorful stories and characters while they taste some of our finest teas, chocolates, cheeses and craft libations on the Fort Collins Foodie Walk!
Art in Public Places Tours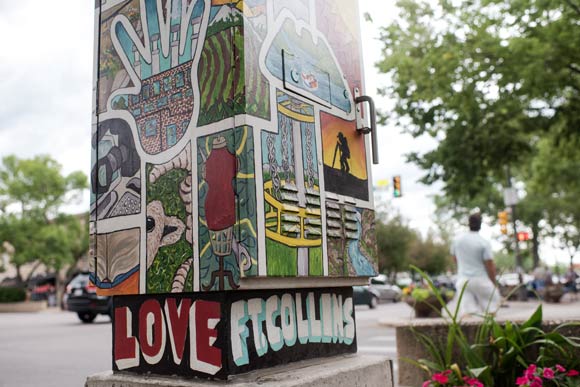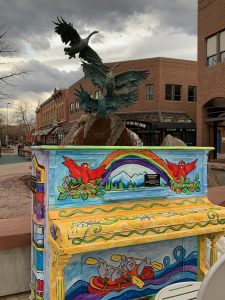 ---
Art Tour for Music Lovers
Love music and want to get out to explore our art scene too! Well before the show take a tour of the history, artwork, murals and instruments that line our streets and are nestled in our alleyways. You can explore at your own pace and play music along the way! Download the tour PDF!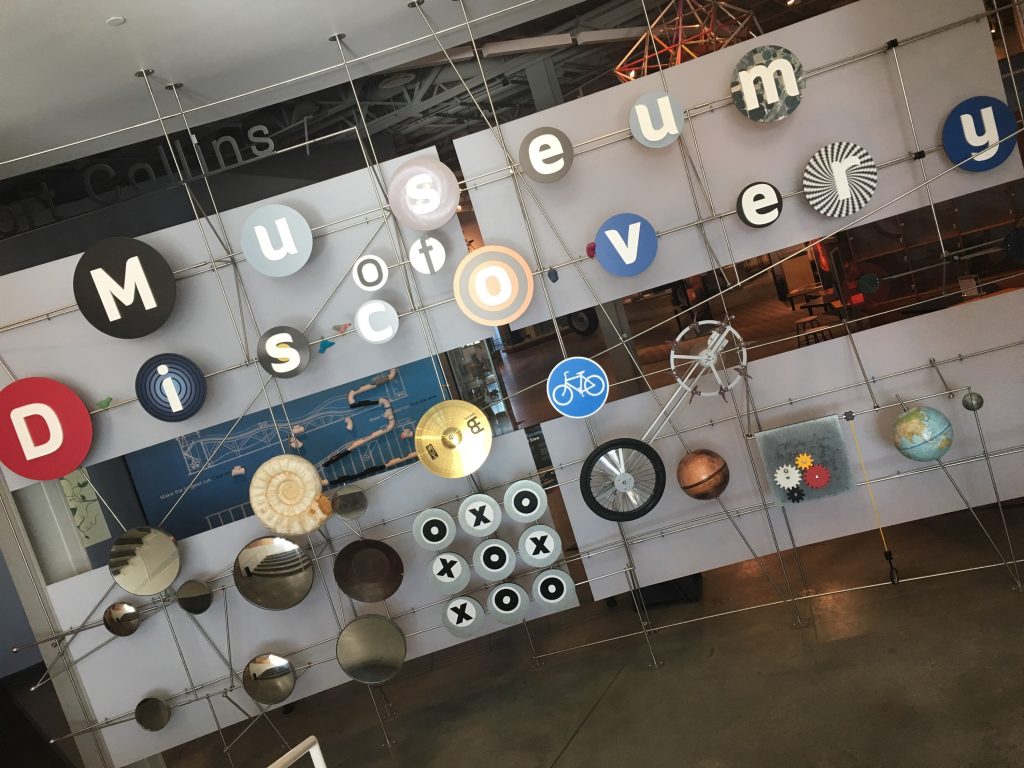 ---
Murals Tours
Downtown is filled with colorful murals by local, regional, collaborating and international artists. Wander the alleys and streets to tour the art murals, interact with a 3D mapped dynamic mural by Italian muralist Peeta and Denver's AltEthos (located in Old Firehouse Alley) and snap a selfie with your favorites! You can see even more murals through Art in Public Places and the ghost signs on historic buildings that evoke another era.
A large portion of our Downtown murals have been created by the Fort Collins Mural Project who hire Fort Collins and Colorado artists each year to paint murals on private businesses' walls throughout Fort Collins and Downtown. They host a week-long mural painting event each summer, creating many murals simultaneously throughout the city! See the Fort Collins Mural Project digital map and mural gallery to plan your next adventure, or simply wander around and enjoy finding one around each corner!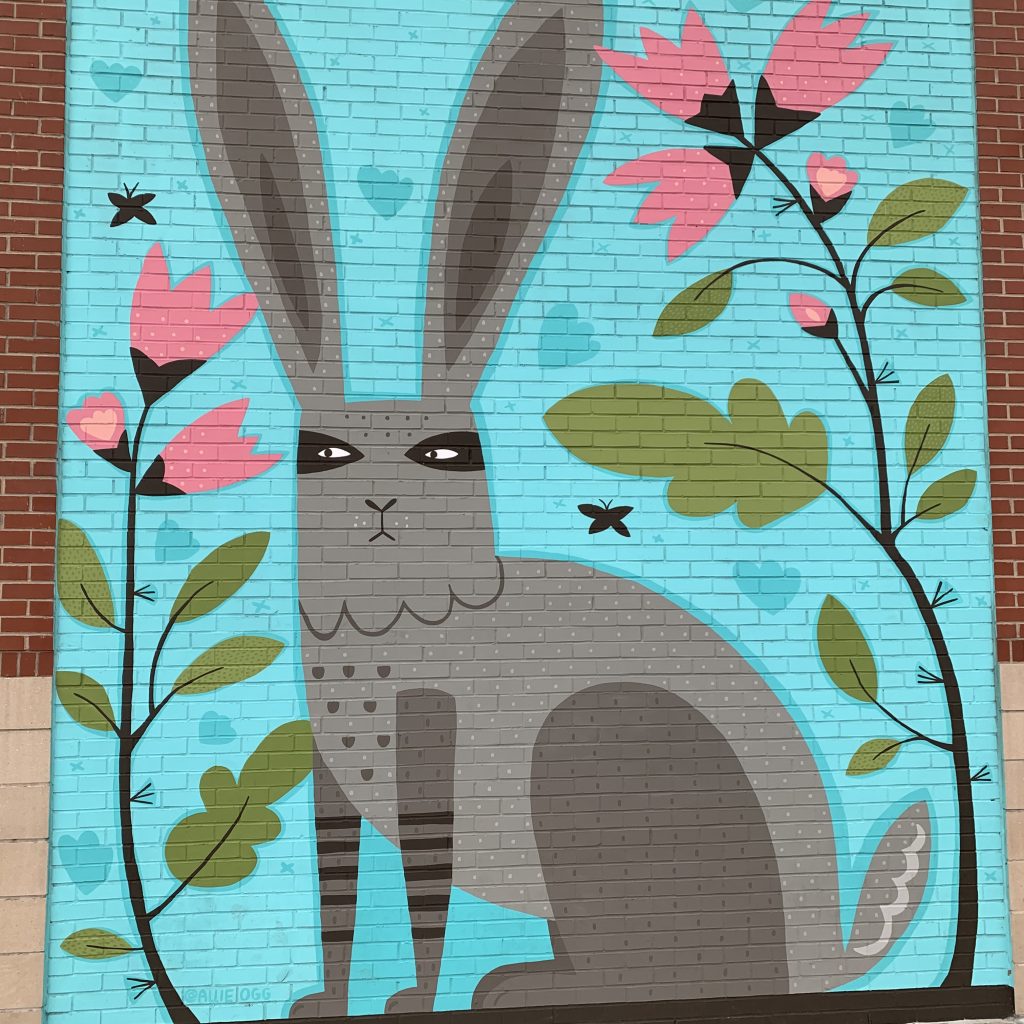 ---
Fort Collins Art Walk
Downtown is filled with fine art photography, glass and ceramic art, paintings, fiber artwork, and art jewelry and each month galleries and boutique shops change out their art show. You can walk to all the galleries and gaze at the walls, add to your collections and find the perfect gifts. For over 20 years the Downtown galleries and visual art scene has been hosting a First Friday event and helping set the downtown apart from the rest of Northern Colorado. Get Fort Collins Art Walk details and highlights, visit iconic galleries like Trimble Court Artisans and embrace the art lover within!
---
Historic & Architecture Tours
Explore our history and beautiful architecture as you walk among the shops and patios. You can enjoy buildings from the late 1800s around Old Town Square, historic pioneer cabins at the Old Heritage Courtyard in Library Park, and side by side with buildings spanning the 20th and 21st centuries. History comes alive as you read the building's placards, explore the River District and our railroad history.
To start your walking tours of our historic sites and architecture consider these tours:
---
Fort Collins Foodie Walk
Love artisan foods, hand selected herbs and spices? The FoCo Creative District is filled with passionate culinary artists who specialize in hand crafting chocolates, blending teas, artful distilling and fermenting, selecting the finest balsamic vinegars and more! Explore these shops and eat along the way on Downtown's Fort Collins Foodie Walk.
Throughout the Downtown Fort Collins you can discover the finest cheeses, olive oils, hand roasted coffee, apothecary tinctures and herbs and single origin bean to bar chocolates. Taste a chocolate taste flight at Nuance, ground yourself in aroma at Old Town Spice Shop and Savory Spice Shop , sample exotic oils and vinegars at Rocky Mountain Olive Oil, and relax with the experts at Welsh Bistro Cheese Shop and Bistro. And if you are needing the perfect drink visit the tea experts at Happy Lucky's Teahouse and Ku Cha House of Tea, coffee bean roasters and aficionados at The Bean Cycle Roasters. Finally uniquely crafted Fort Collins spirits and ciders can be had at Coppermuse Distillery, Scrumpy's Hard Cider and artfully local craft beers abound at Equinox Brewery, Coopersmith's Pub and Brewery, Odell Brewing and the mothership, New Belgium Brewery.