Outdoor Art, Murals, Sculpture and Public Art
Explore the walls, alleys, sidewalks and public spaces of Downtown Fort Collins that are filled with colorful outdoor art! Community members and artists continually contribute to the richness of the Downtown experience through the City of Fort Collins Art in Public Places programs, the Fort Collins Mural Project, and Sculpture in the Square annual exhibition. You can explore and see vibrant wall murals; youth created pedestrian sidewalk pavers; bronze, mixed metal and stone sculptures; painted outdoor pianos and the nationally acclaimed utility box mural collection. Outdoor art is free to see, available to all and accessible year round!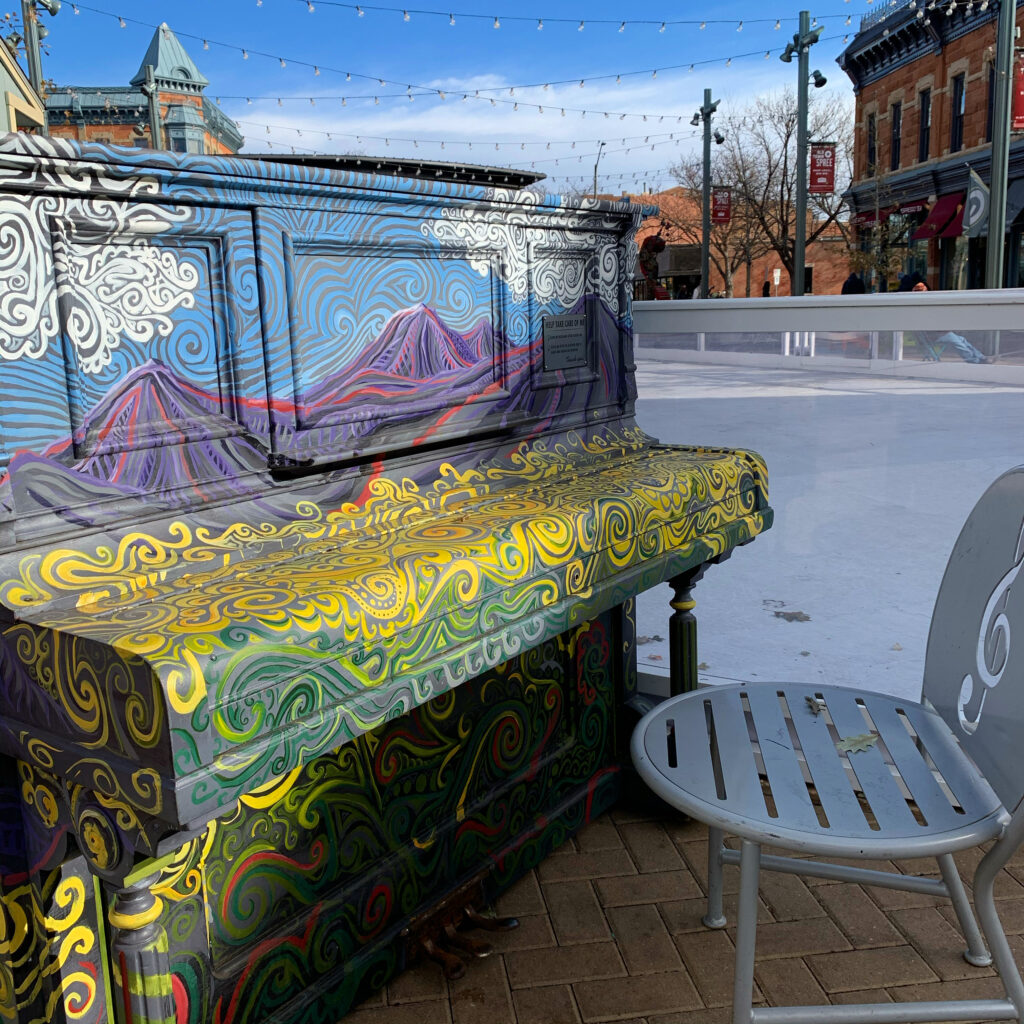 Transformer Cabinet Murals
The Transformer Cabinet Mural Project was started in 2006 as a collaboration between the City of Fort Collins Art in Public Places Program and Utilities Light and Power and is painting their 400th cabinet mural in summer 2023. Serving as a graffiti abatement program, the murals help lower maintenance costs while adding bright colorful art in unexpected places. The program also hires local artists and non-profit groups to paint the cabinets and is the first of this type of collaborative program in the nation. Explore the City of Fort Collins Art in Public Places image gallery, use their geo-map to plan your route or download the Downtown Transformer Cabinet map to get started. And if you are limited on time take the 30 minute public art tour of downtown designed by the City of Fort Collins – Art in Public Places.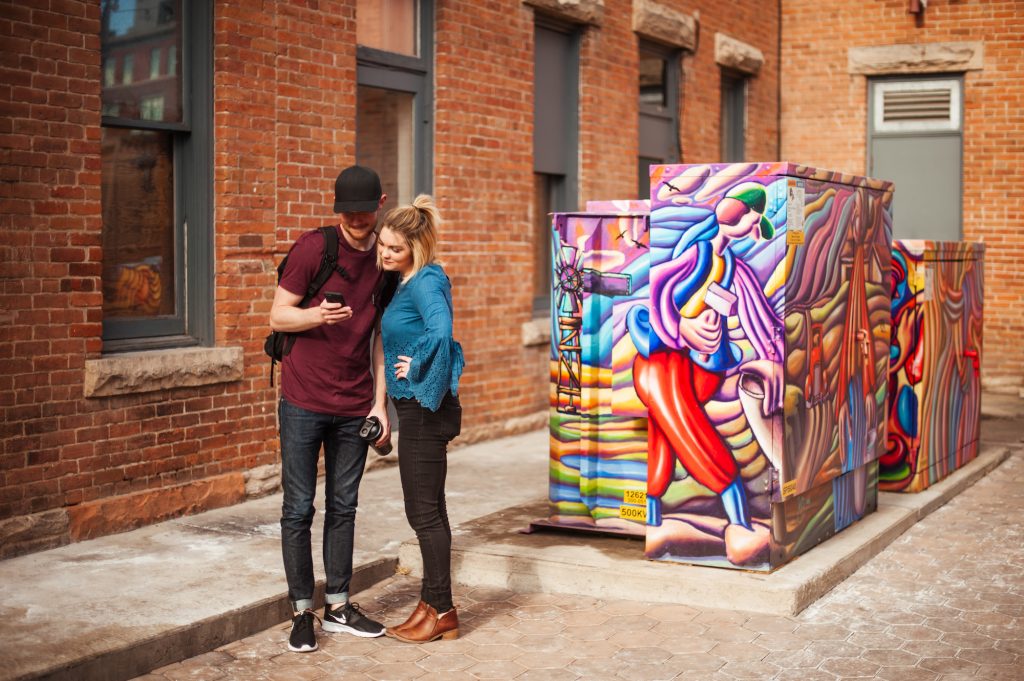 ---
Pianos About Town
Over 130 donated pianos have been painted over the last 13 years! Each piano is carefully painted by local artists, placed outdoors for all to play, tuned regularly and beloved by the community. This program is a partnership between Bohemian Foundation, the Downtown Development Authority and the City of Fort Collins Art in Public Places. There are several places in downtown where you can find a Pianos About Town, enjoy the art and play one for yourself!
You can play them at the Old Town Square Fountain, Oak Street Plaza, Civic Center Parking Structure, Old Town Parking Structure and Jazz Alley.
You can also see additional pianos on display in the windows of 242 East Mountain Ave.
Hundreds of artists have created unique murals on these pianos that tell the story of our community and momentous events along the way. Explore the entire collection and image gallery at the City of Fort Collins – Art in Public Places website.
---
Murals
Downtown is filled with colorful murals by local, regional, collaborating and international artists. Wander the alleys and streets to tour the art murals, interact with a 3D mapped dynamic mural by Italian muralist Peeta and Denver's AltEthos (located in Old Firehouse Alley) and snap a selfie with your favorites! You can see even more murals through Art in Public Places and the ghost signs on historic buildings that evoke another era.
A large portion of our Downtown murals have been created by the Fort Collins Mural Project who hire Fort Collins and Colorado artists each year to paint murals on private businesses' walls throughout Fort Collins and Downtown. They host a week-long mural painting event each summer, creating many murals simultaneously throughout the city! See the Fort Collins Mural Project digital map and mural gallery to plan your next adventure, or simply wander around and enjoy finding one around each corner!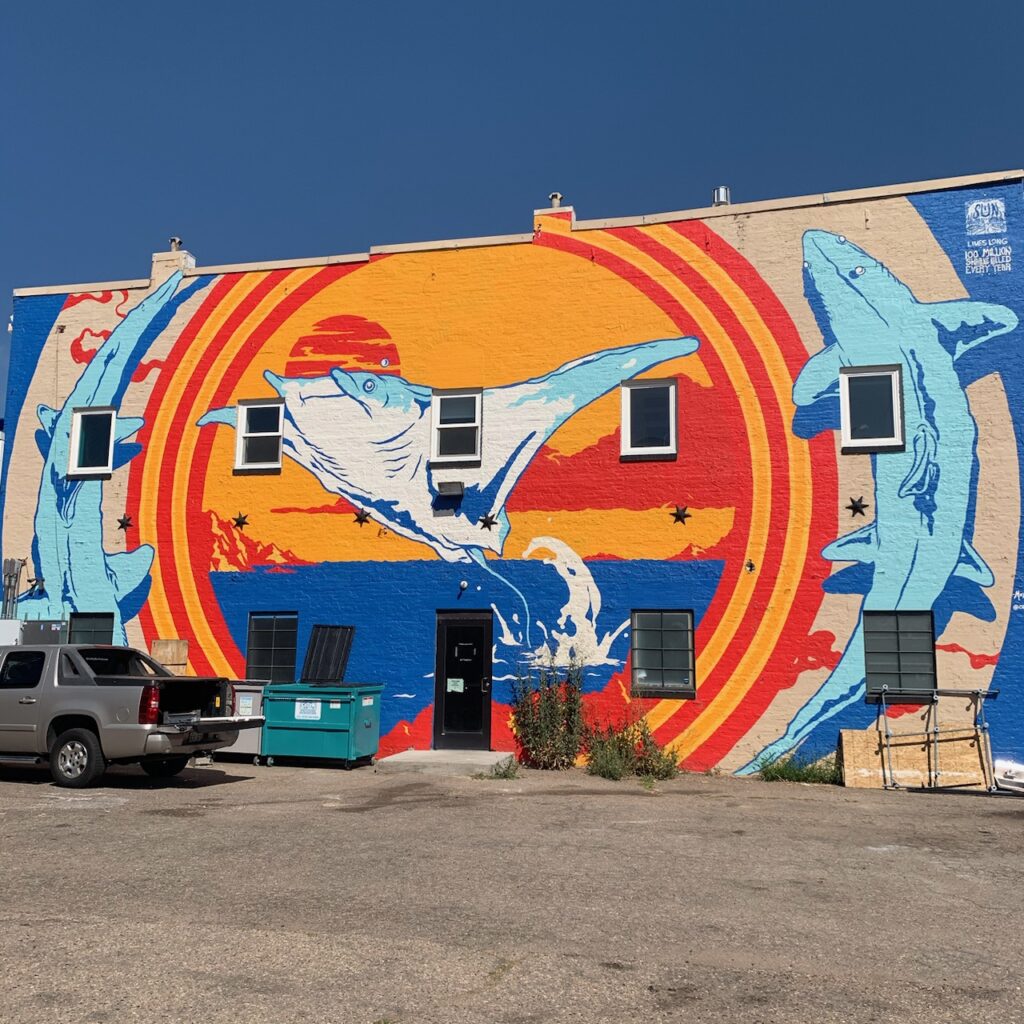 ---
Pedestrian Pavers
Just take a look down to see some of our community's youngest artists' work! The downtown sidewalks and alleys are filled with these Pedestrian Pavers created by the City of Fort Collins Art in Public Places. Children's drawings are sandblasted into granite pavers and then set in sidewalks throughout the city.
Downtown has several areas where you can see entire collections of these type of pavers. Many of them are special collections created in partnership with the Downtown Development Authority for their alley renovations projects and for City of Fort Collins streetscape projects.
See the "Early Fort Collins" themed pavers along Willow Street and Linden Street to learn about the Indigenous, agricultural, and military history of Fort Collins.
"Downtown History" pavers are located along the Old Firehouse Alley just off Linden Street.
A collection of "music and art" themed pavers are located along Dalzell Alley west of The Music District between Myrtle Street and the Colorado State University Campus.
Enjoy the "Sustainability" pavers along Montezuma Fuller Alley between Mountain Avenue and Oak Street, as well as many murals and public artwork.
---
Sculpture
Pillars of granite, upcycled metal, bronze and stone — Downtown Fort Collins is filled with sculptures. Many are located in Old Town Square where Sculpture in the Square's annual exhibition hosts approximately 10 sculptures from Colorado and national artists. The public is invited to not only tour the sculptures, but also to vote for their favorite. See this year's pieces and read more about the Downtown Development Authority Sculpture in the Square program.
Other ways to enjoy sculpture within the district include exploring some of the public spaces like the Poudre River Whitewater Park, Library Park, The River District, The Lincoln Center Sculpture Garden, Mason Street Corridor bus stops and City of Fort Collins buildings. Explore the City of Fort Collins Art in Public Places image gallery or use their geo-map to plan your route to see their precise location and begin to see these impressive works of art!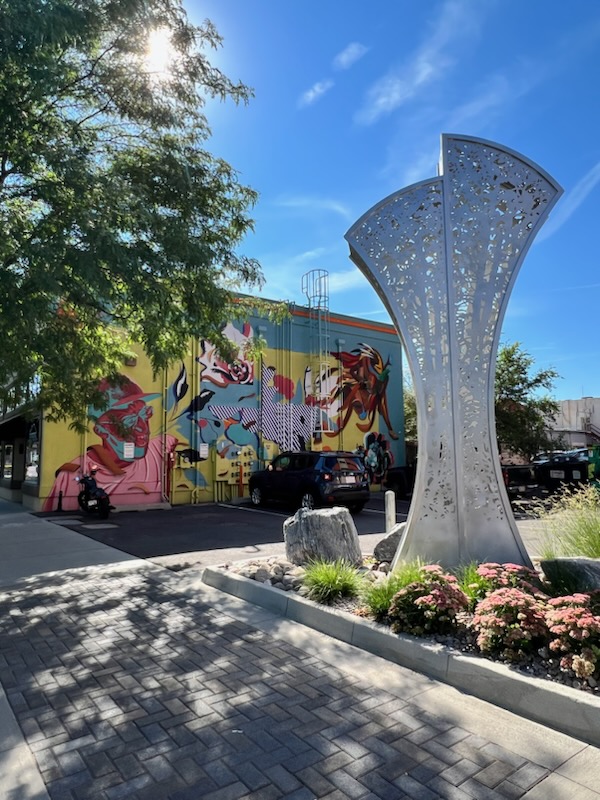 ---