Bringing Concrete to Life
Taking advantage of the warmer weather, local bars and restaurants expanded their patio spaces onto the sidewalks and streets of Old Town Fort Collins. The city has worked to provide concrete barriers to protect these temporary patio extensions, which, according to one Downtown Fort Collins Creative District spokesperson "just so happen to be functional and not terribly attractive." Enter creative thinking… The Downtown Creative District then reached out to the City of Fort Collins Engineering Department, who own the concrete barricades and Art in Public Places (APP) to see if painting temporary murals would be a possibility. With the help of grant from Colorado Creative Industries, the District was funding ready to beautify the partitions around outdoor seating areas. Artists are getting paid, businesses are attracting diners, and Old Town is looking good as Fortopians safely comply and imbibe during quarantine.
Here's how the program works: food and beverage establishments, like The Rio, Pour Brothers, and The Blind Pig connect with APP to have their concrete barriers become mural space for local artists. The business owners share the character of their businesses and a handful of adjectives they value or identify with. A committee then matches the business to a local participating artist who in turn designs visual art for the barriers.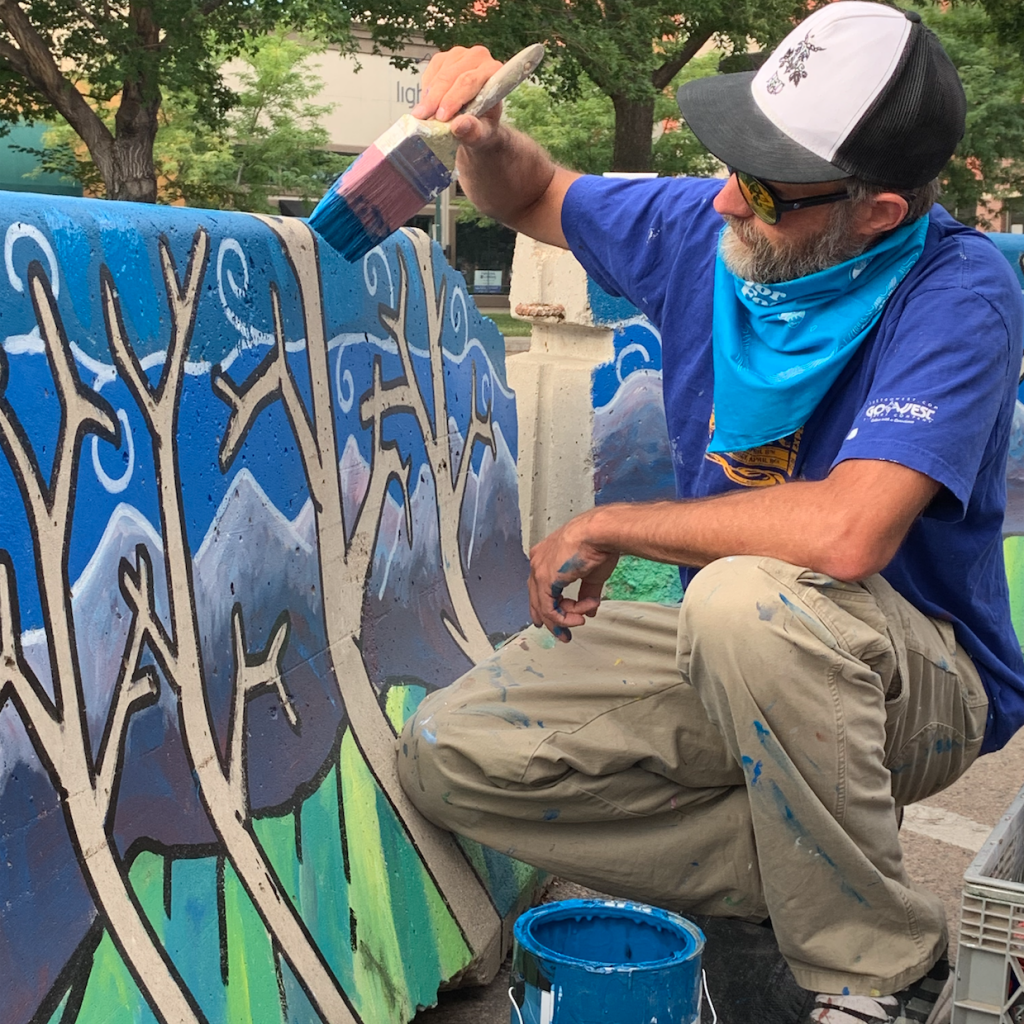 Kristy Wygmans, owner of Pour Brothers, relates that farm-to-table was an important aspect of her restaurant she wanted artist, Ren Burke, to consider in her design. "One of our [local produce] vendors lost 95% of their business when the restaurants shut down, so we loved supporting local producers and providing our customers with fresher ingredients more than ever. We thought it would be fun to have the mural celebrate this shift."
Business owners are happy to have a new mode of communication and customers are receptive. Wyhmans says, "The art helps to create this vibrant scene and almost everyone who has dined with us has asked if the expanded dining can be permanent! They all feel like it compliments our Colorado lifestyle and supporting local artists is a part of that!"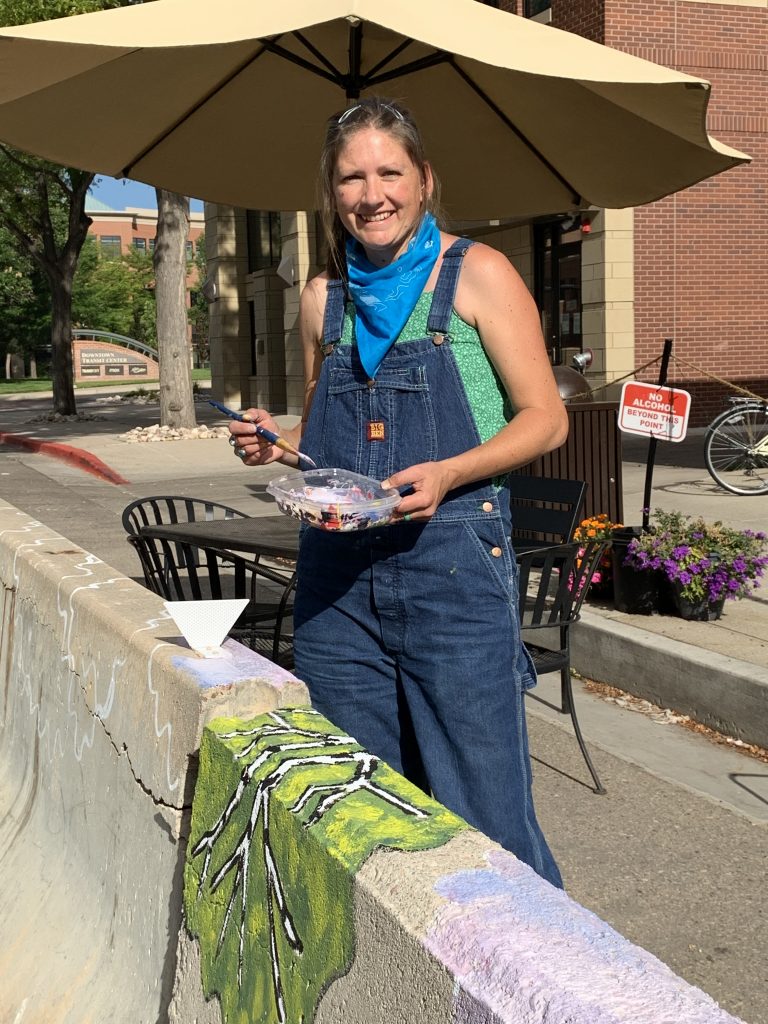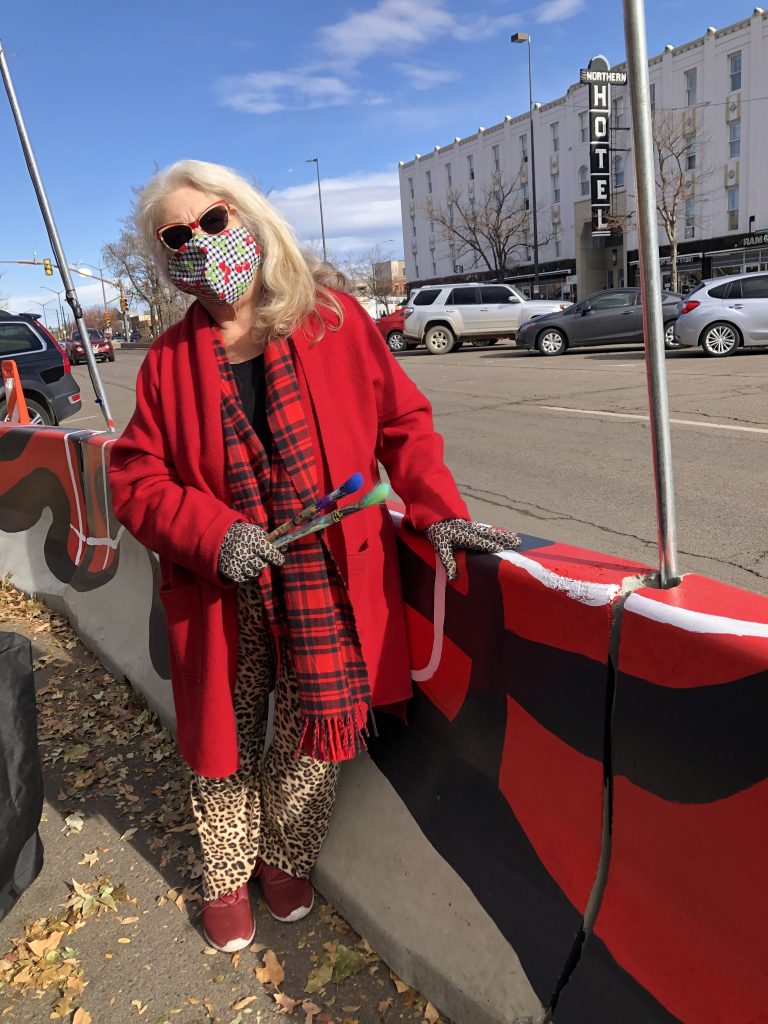 Visuals artists are thriving through this program as well. With typical summer sources of income like festivals, fairs, and art shows cancelled, this paid painting gig is welcome by many. Artists Ren Burke of Bird In Hand studio found inspiration in the words "Community" and "Color" but a challenge in aspects of the medium. "The biggest challenge was working on the concrete itself. It's very textured and porous which really soaks up the paint. One new medium I used was spray paint. I needed to be able to get a lot of color down quickly, and the spray paint really did the trick," she says.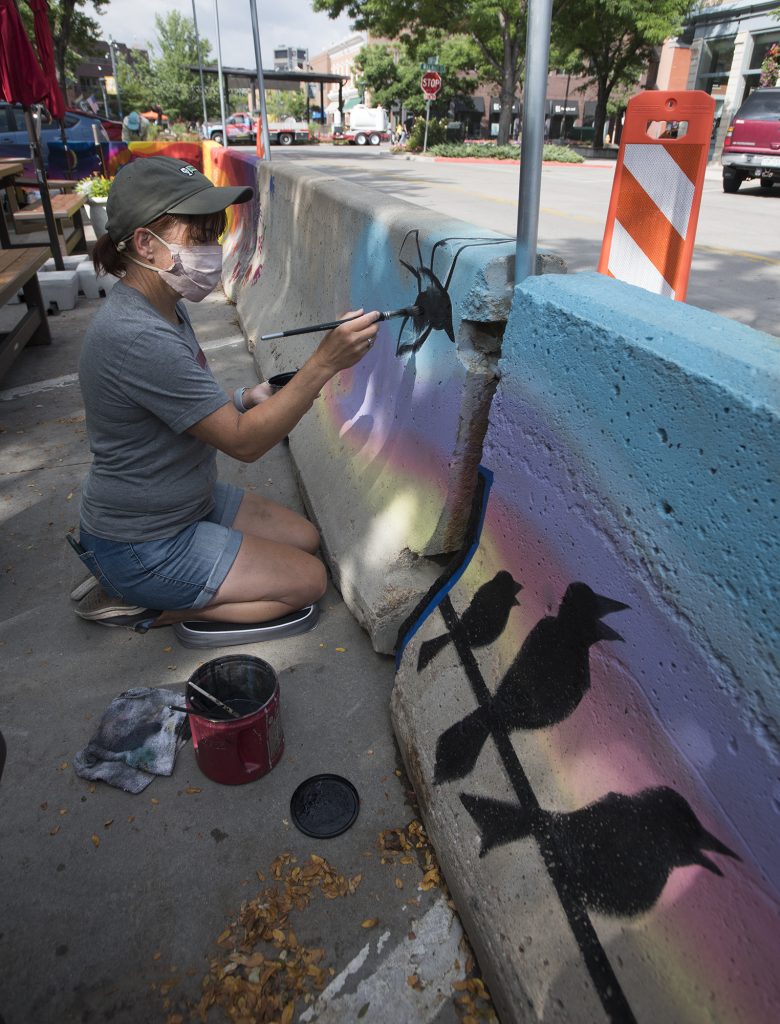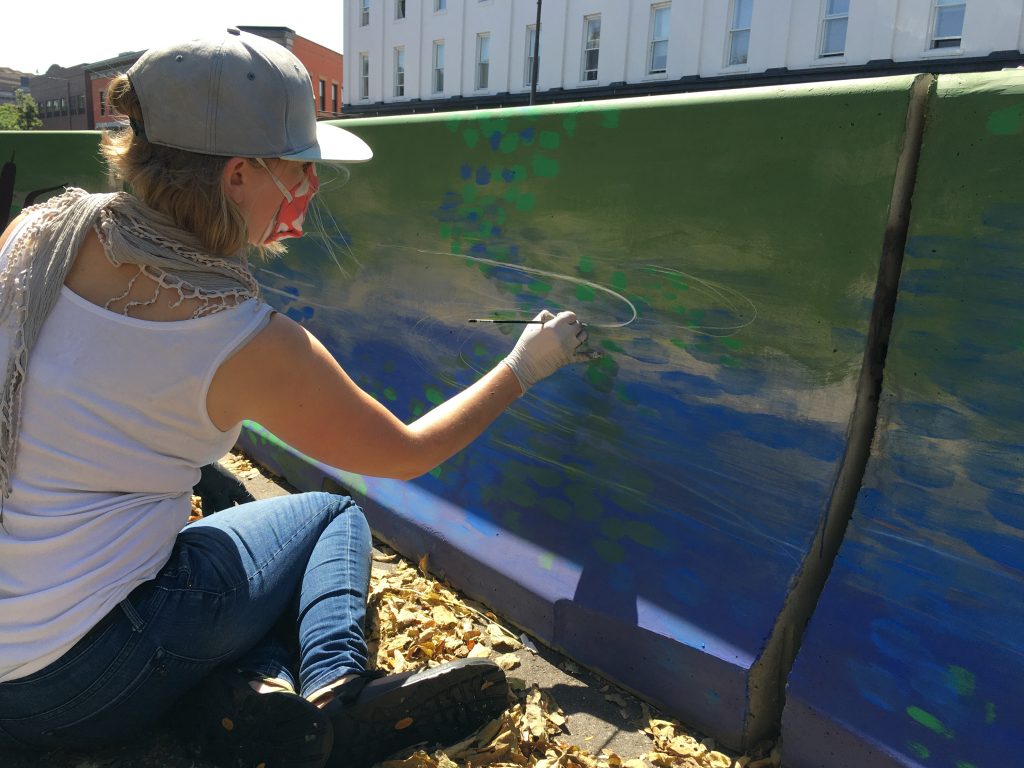 "The City of Fort Collins Art in Public Places Program and Engineering Department are excited to create this new painting project that is a centerpiece for downtown. The project hired 13 local artists to create 14 murals, creating unique outdoor dining spaces for our local restaurants. This project was possible due to the amazing collaborations; with funding from the Downtown Fort Collins Creative District and the Jason and Lucy Greer Foundation for the Arts, and paint donations from Downtown ACE Hardware," says Ellen Martin, Visual Arts Administrator for the City of Fort Collins Lincoln Center.
Overcoming obstacles together, even if those obstacles are just some ugly concrete barriers, is quickly becoming a way of life. Many rallied together, including Downtown Ace Hardware with paint donations and the City of Fort Collins Engineering Department utilizing the State's Revitalizing Main Streets program with the concrete barricades. In these trying times, a little splash of color can sometimes make a world of difference. Explore the rest of the publicly accessible artwork throughout downtown on transformer boxes, Pianos About Town, support locally and enjoy these works of art on the concrete barriers as outdoor dining continues to be a safe choice to dine in Downtown Fort Collins. Come sun, rain or snow!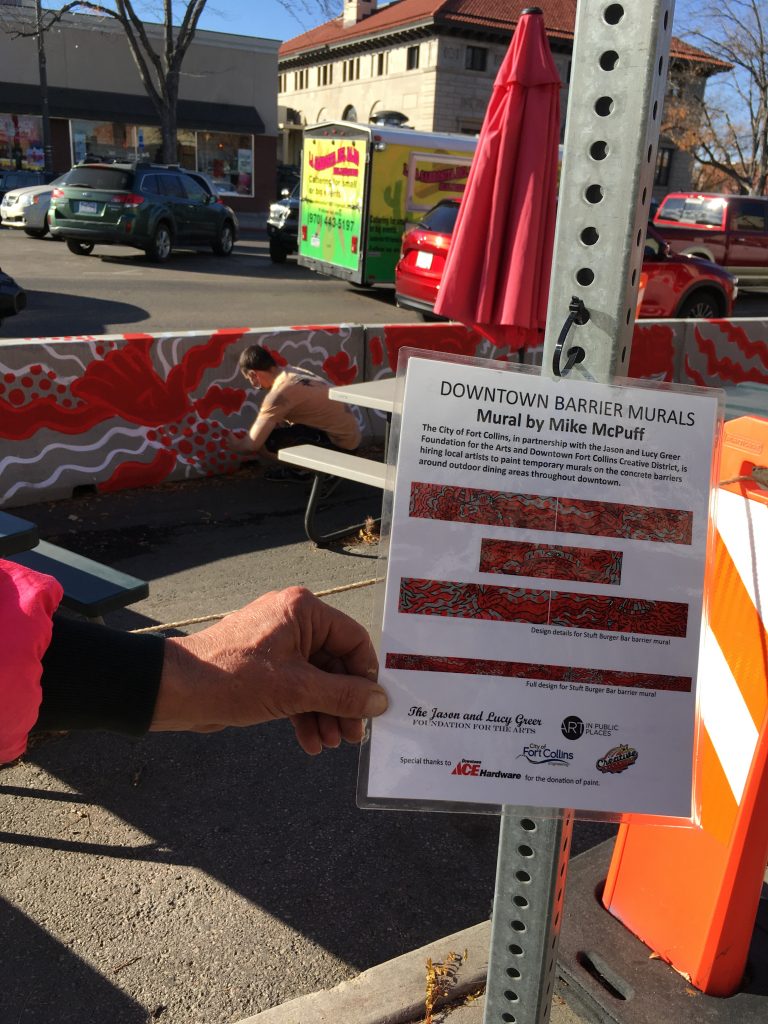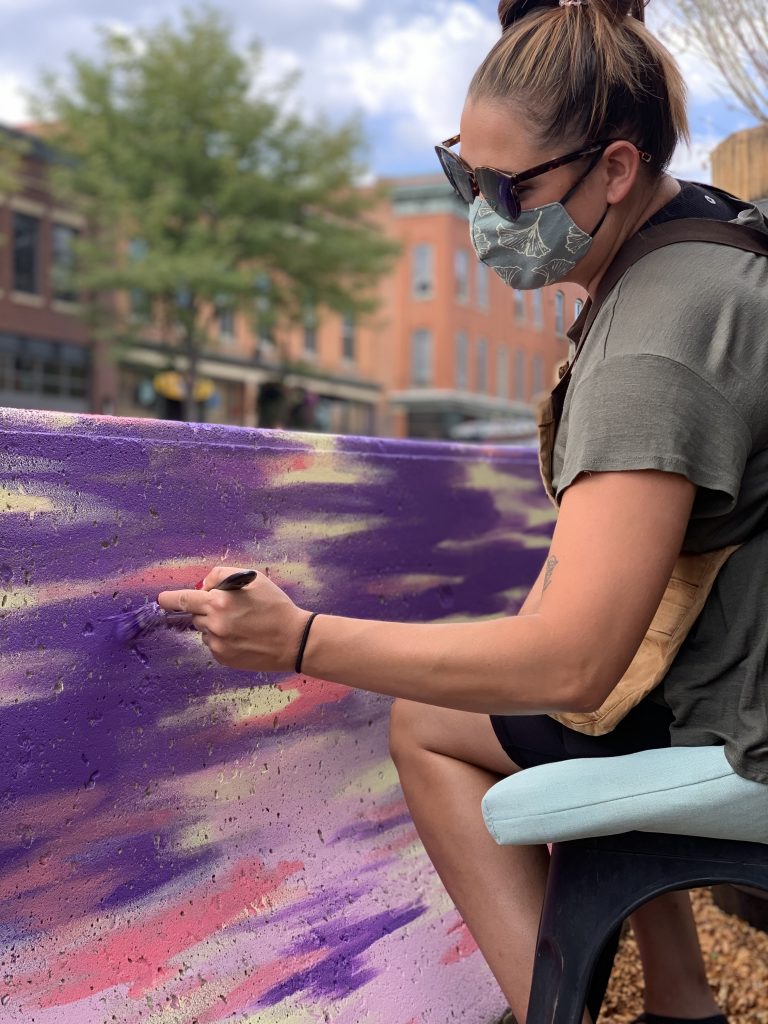 Enjoy the artful barricades throughout 2020 and 2021 at these Downtown Fort Collins restaurants street temporary patios:
See each artist's mural designs and explore more public art at the Art in Public Places website.
Thanks to our project partners and supporters: Colorado Creative Industries, Art in Public Places, The City of Fort Collins Engineering Department, and Jason Sheppard and Lucy Kim Greer Foundation for the Arts. And paint sponsor Downtown Ace Hardware! Thank you to all of them, we would be unable to do it without you! – The Downtown Fort Collins Creative District

This article is part of a series of highlights about our Fort Collins artists and creatives making a difference during the COVID-19 pandemic crisis. Thank you for supporting local artists, musicians, creative small businesses and Downtown Fort Collins!