Cooking Together, Apart
Families prep dinner during the coronavirus pandemic. They get out the cutting board, knives, trusty cast iron skillet, and set up the laptop on the kitchen counter. Yep, The Cooking Studio is offering their cooking classes for all ages via Zoom as well as in person. Expert teachers, chefs from local restaurants, lead students virtually through recipes and cooking techniques in small classes of fewer than eight in the comfort of their own kitchens.
Here's how it works: You register for the virtual class through The Cooking Studio, gather all the equipment and ingredients on the list emailed to you, and join your teacher online for a live cooking class. You can invite your relatives from out of state to join or even host a private birthday party with family and friends all cooking together, separately.
Business owner Trish O'Neill says, "We've seen this bring together so many people to build community. I've always known that food brings people together but this is a totally new way it's doing just that. "
She notes that ironically Zoom cooking classes would have never been popular before the pandemic, but now that necessity has forced them online she expects to continue offering virtual classes once the shutdown is over. Lots of kids are taking online cooking classes and their parents are thrilled to have a home cooked meal made by their proud ten-year-old, even if they do need to supervise with the broiler occasionally.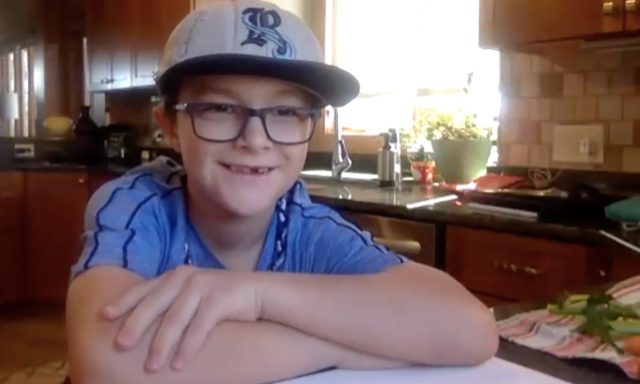 "The best things for kids is their pride in cooking a scratch-made dinner for the whole family."
O'Neill says that there have been a number of surprising benefits from our challenging times. What was the best? She replies,
"The best thing for the chefs is finding a new way to use their talent of keeping multiple stations (ie: kitchens) on task to create a delicious menu."
"The best things for kids is their pride in cooking a scratch-made dinner for the whole family."
"The best thing for adults is a cooking experience where they can ask questions and get real time advice on the things that are happening in their own kitchens."
"The best thing for the world is that we can all learn to cook at home from scratch again."
The Cooking Studio is now offering virtual kid and adult classes as well as in person classes – See their calendar for all the details!
This article is part of a series of highlights about our Fort Collins artists and creatives making a difference during the COVID-19 pandemic crisis. Thank you for supporting local artists, musicians, creative small businesses and Downtown Fort Collins!